back to blog
Track Events to see the User Journey of your Leads
2 minutes read
Build successful email marketing campaigns by viewing user journeys for your leads.
New Beetle Eye Tracking Feature
The Beetle Eye application has a new feature, found under the Advanced Lead Tracking link. You may recall that the Advanced Lead Tracking allows you track specific events, such as mouse clicks and page hovers. With the new User Journey feature, Beetle Eye has added the ability to track Page Load events and URL parameters. You can now view a history of an event chain, giving you an in-depth view of how users interact with your site.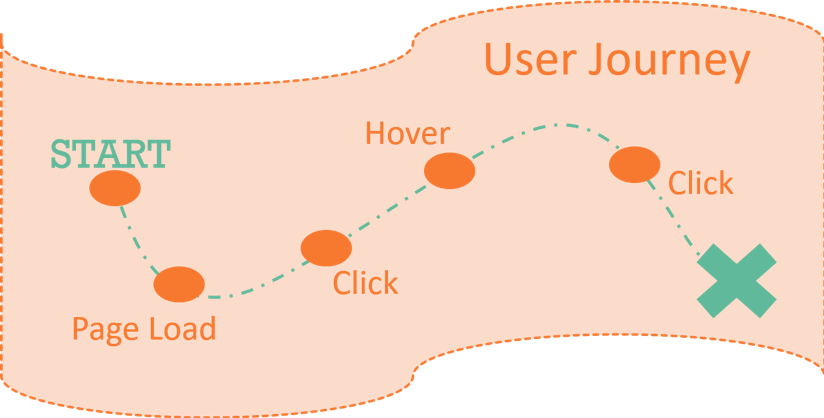 What is a User Journey?
A User Journey is a collection of tracked events that begin with a "start event." A start event is simply the first event in a series of events, such as when a user clicks a link in an email message that takes them to your site. This event is tracked as a start event and all the events that follow are considered part of that series of events.
What does a User Journey Look Like?
Within the Beetle Eye application, the User Journey screen shows all the event data gathered for a lead, or user, through website-triggered events and campaign-triggered events. You can also filter the view by specifying a date range and/or a campaign. Selecting a campaign shows the event data, or User Journey, for only the selected campaign. The data is presented visually with charts and percentages.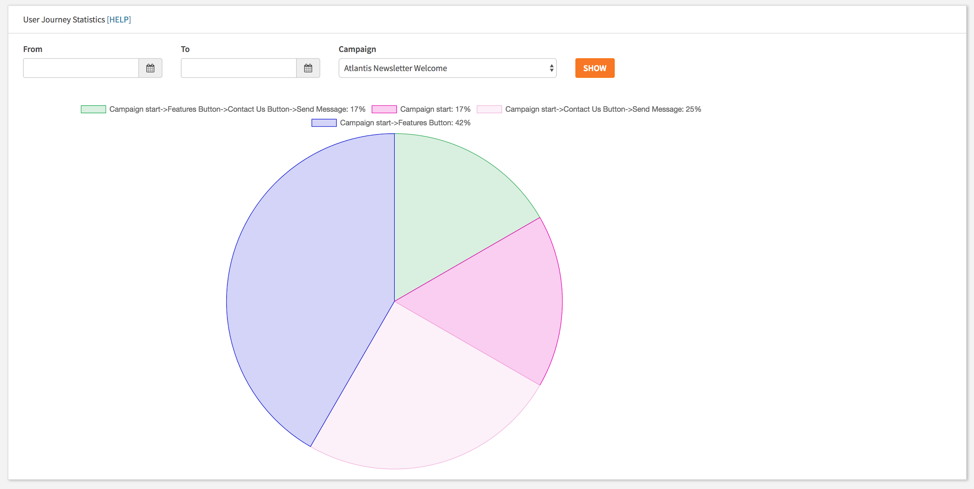 How Do I Apply User Journey Data?
Okay, a user journey is neat and all, but you may be wondering what you can do with this data. Let's take a look at an example user journey to see how it might benefit your lead tracking and your business.
Example User Journey - Shoe Campaign
You have a live campaign for shoes and you have sent out an email with various shoe promotions. The email includes a link for men's sneakers. Let's say your user clicks this link. This initial click, which takes them to your site where they can find the sneakers, is considered the "Start Event." This is the first event in a series of events. From this start event, the user is on your site and can see all the promotional sneakers, plus any other links you may have. On your site, the user sees a link for pants and decides to click to that section of your site. The user clicks the pants link and abandons the sneakers. This new click on the pants link is another tracked event and is added to the journey for the user. Any other events, such as page clicks or hovers, are added to the User Journey as well. At this point in the journey, you as a Beetle Eye user have several options. One option is to consider the sale lost, as the User Journey data shows the user navigated away from the sneakers and did not make a purchase. Another option is to realize that the user may be interested in pants, even if they do not purchase pants on this journey. If you decide to adopt the perspective of option two, you see there is an opportunity for a new campaign letting leads know when your next pants promotion is happening. With this new data, saved to the User Journey, you are able to create a new campaign directed toward users who clicked a tracked pants link.
Build Dynamic Lists Based on Events
Once you have your data, you can build your new campaign using the Dynamic Lists feature. The Dynamic Lists feature in the Beetle Eye application allows you to select events as criteria for a rule. You can select one or multiple events in a rule. For example, you can select the Click event that you have set up for the pants link. With this selected, every user who clicked the pants link and triggered that event will be added to your new campaign. You can add multiple events using the Dynamic Lists feature, allowing you to customize your lead list for your campaign with a chain of events.
Remarketing
With Beetle Eye, the process of reusing your lead list just got easier! You've already done the hard work of gathering your leads, and you have even begun the process of reaching out to them. Your leads are a dynamic group with needs that are always changing. Let your existing campaigns help you meet the needs of your leads by tracking user events and creating User Journeys. Take the data created by User Journeys and create campaigns where you are focusing on a more specific group of leads.
Enjoy the Journey!
You can read more about Beetle Eye features here.
We would also be happy to show you a demo of the Beetle Eye application!