back to blog
How Do I Reach Leads with Smart Posts?
7 mins read
How Do I Reach Leads with Smart Posts?
Give every lead a personalized content experience, automatically
Your leads are looking for information and there is no shortage of that online. How do you provide them with the content they want without overwhelming them with too much information? The answer: Smart Posts by Beetle Eye.
To successfully reach a lead, you need to give them what they want, and fast (according to one study in 2015, you have eight seconds before you've lost someone's attention). Visitors to your website are giving you information about the content that interests them. Smart Posts enable you to automatically share personalized content based on the selections visitors make on your website.
How does this work?
The key to Smart Posts is tagging. Both leads and Smart Posts use tags as descriptors.
Tags can be added several different ways:
Lead Tags
Smart Posts Tags

Subscriber indicates interest on a form
Advanced Lead Tracking
Manually added to a lead record

On Post Settings screen within the Visual Editor
On Create Smart Post screen
On Edit Smart Post screen
When a lead tag matches a Smart Post tag, a cross reference is created. A lead who has subscribed to your email newsletter, for example, will receive a personalized version of that newsletter based on the matching tags:
| | | | |
| --- | --- | --- | --- |
| Email Newsletter | Lead Tags | Smart Post Tags | Matches |
| Waterways of the South | Florida; Hiking; Seafood | Boating; Florida; Seafood; Water_Skiing | Florida; Seafood |
| Edge of the World | Climbing; Snow_Skiing | Bungee_Jumping; Climbing; Rappeling | Climbing |
Subscribers will only receive content where their lead tags match the Smart Post tags.
When setting up your tags, keep in mind that the lead tag and the Smart Post tag must match if the lead is to receive the Smart Post.
Check out this introduction on how to configure Smart Posts in Beetle Eye.
Once you have tags created, automation can do the rest. As visitors subscribe to your newsletter using the form on your website, they will begin receiving custom content.
Remember that the timing of subscribers joining your newsletter matters, too. If you have a Smart Post scheduled to end in January, visitors who subscribe in February won't see that content. They will only see the Smart Post content that is active from the date they subscribe onward.
What does it look like?
This example shows a scenario with three different Smart Posts and two new subscribers, labelled Lead 1 and Lead 2. Lead 2 doesn't subscribe until February 6, which is after the end date for the content in Smart Post A .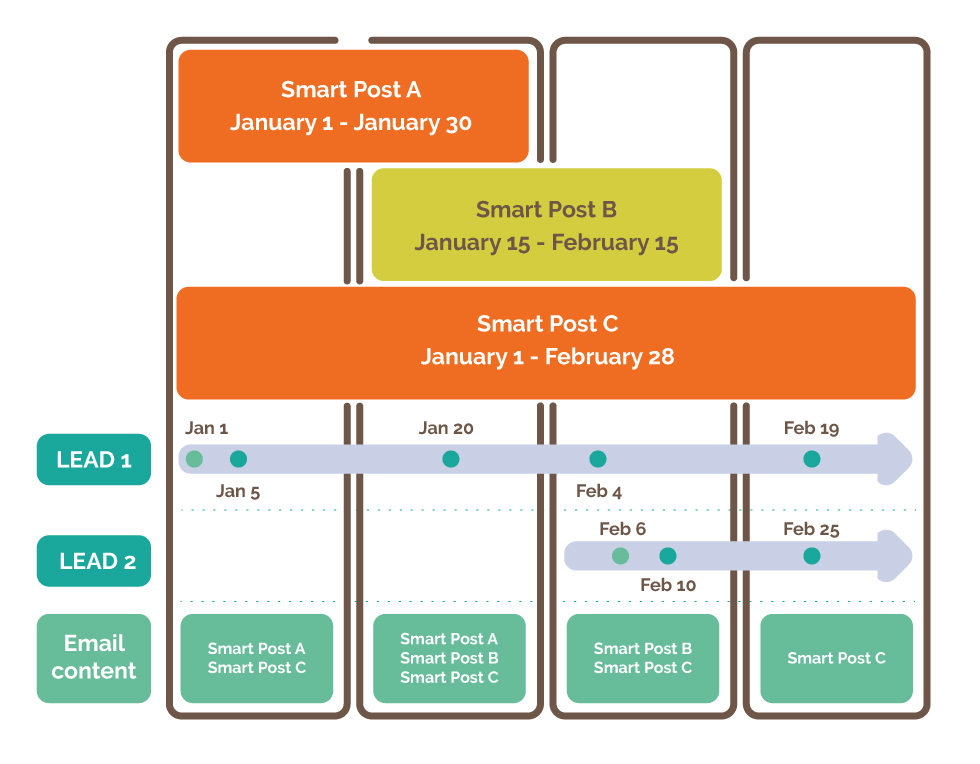 Engagement Scenarios
Your hotel is hosting a business conference next month and you see a jump in website activity as attendees and speakers begin signing up and reserving hotel rooms. You've added an option for site visitors to subscribe to an email newsletter, which includes the following question:
Which of the following would you like to learn more about?
Hotel shuttle
Spa and salon
Seafood and Grill restaurant
Conference center
The following website visitors have subscribed, each interacting with your site in different ways. Since you have set up Smart Posts and taken advantage of other Beetle Eye features, you will be able to meet each of their needs. Based on their selections, they all receive unique, personalized versions of your email newsletter.
The All-In Responder
Sally selects Hotel shuttle, since she is flying into town. She also selects Conference center because she is interested in the conference facilities. Her choices create tags on her lead record. Let's say the tags are [shuttle] and [conference]. If you create a Smart Post that talks about your hotel shuttle, you would need to add a tag called [shuttle] for the Smart Post to cross with Sally's lead tag. Similarly, any Smart Posts with information about the Conference center would need to include the tag [conference].
The Browser
Paul will be at the conference next month as well. He is browsing through the section of your website that talks about the hotel shuttle and your on-site restaurant. He also subscribes using your subscription form, but fails to make any selections when asked what he would like to learn more about. Because you are taking advantage of Advanced Lead Tracking, Paul has triggered certain events by browsing your website. These events add the tags called [shuttle] and [restaurant] to his lead record; this ensures that Paul will receive any Smart Posts that include the [shuttle] or [restaurant] tags.
The Ninja
Jesse spent just enough time on your website to subscribe, but did not indicate what information would be of interest on the form. Jesse also did not trigger any Advanced Lead Tracking events. In this scenario, Jesse will still receive a newsletter and it will be filled based on general settings and Smart Post global settings.
Interested in learning more about reaching leads? Contact us today!