back to blog
Improve Email Marketing Campaigns by AB Testing Your Email Subject Lines
2 minutes read
Would you like to improve the open rate of your marketing emails? By integrating AB testing into your email marketing campaign, you can see how two different email subject lines perform with a sampling of your lead list. The Advanced Email Campaigns feature in the Beetle Eye application allows you to do just that.
But what, exactly, is AB Testing? And how can it help your business?
What is AB Testing?
AB testing, sometimes called AB split testing, is a process of testing two variations of a data point to see which variant performs better. In the case of email marketing campaigns, AB testing can be used to test email subject lines. In Top 10 Components of a Successful Marketing Email, you learned that good email subject lines offer users brief but meaningful information about the email. The email subject line must be catchy enough that your audience wants to actually open your email.
This is where AB testing comes in!
With AB email testing, you create two emails that are exactly the same, except the subject line. We'll call them Variant A and Variant B. You send Variant A to a portion of your lead list and Variant B to a portion of your list. The variant with the higher open rate will be sent to the remaining portion of your lead list.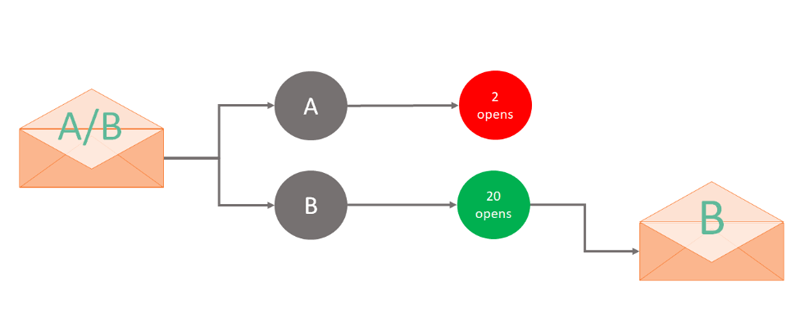 Can AB Testing Help Your Business?
Instead of relying on your gut instinct alone, AB Testing uses statistical hypotheses to give you a better idea of what is valuable to your audience. With a better understanding of your audience, you can create better products, lower email bounce rates, improve content, and more.
How Does AB Testing Work in Beetle Eye?
You can integrate AB testing into your email marketing campaign using Beetle Eye's Advanced Email Campaigns feature. Beetle Eye automates the AB testing process, measuring the AB test results and automatically sending the "winning" email to the remainder of your lead list.
When setting up Advanced Email Campaigns in Beetle Eye, you have several data points with which you can create different variants. Be aware that altering more than one data point, called an interaction effect, can alter your results. For this example, we will stick with two email subject lines as the only variants.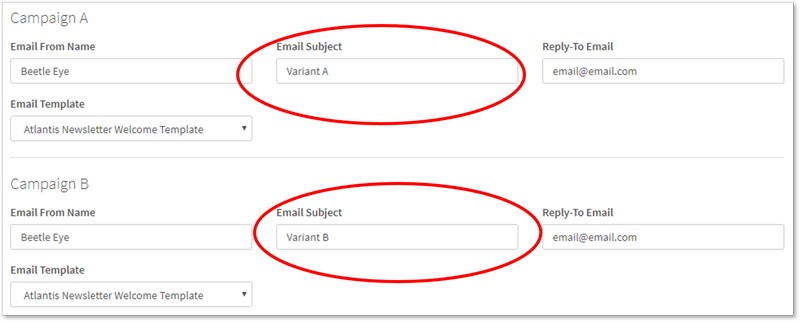 Once the campaign is started, Beetle Eye will automatically send Campaign A to 25% of your lead list and Campaign B to another 25% of your lead list. After collecting 48 hours worth of data about the email open rates, the "winning" email will be sent to the remaining 50% of your lead list.
After the latest update of Beetle Eye from December 2018, you are able to define these numbers by yourself. There are two new fields when setting up a new Advanced Email Campaign. They allow you to define the % of the sample set and the number of hours the system needs to wait before choosing a winner subject line and mailing the remainder of the campaign.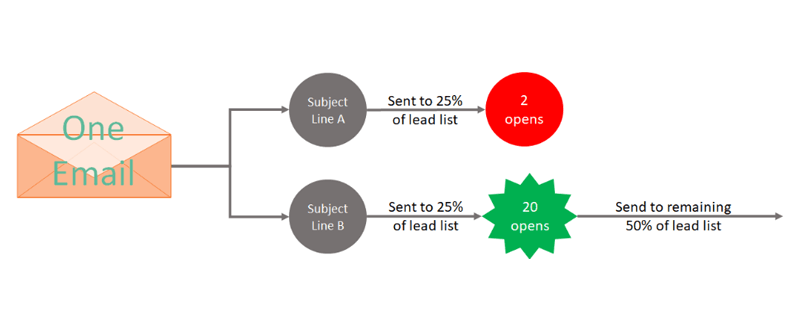 Beetle Eye breaks these into three sub-campaigns, giving you more data on your reports. The statistics will be the same, while you will be able to see each batch of emails created by the Advanced Email Campaigns feature as a separate sub-campaign.
To learn more about how Beetle Eye's Advanced Email Campaigns feature can help you integrate AB Testing and improve your email marketing campaign open rates, contact us to schedule your Beetle Eye demo today!